Slots of Vegas Withdrawal: Maximum Payout & Banking Guide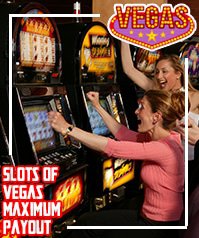 Slots of Vegas is quite an experienced online gambling venue. They've been in the industry ever since 2004. During that period, they've had their ups and downs. But today we'll be focusing mainly on their payment options. We've put together a little banking guide of sorts, so that our readers will have a clear image of what to expect from this casino. In today's article we'll feature the Slots of Vegas deposit and withdrawal methods, as well as various useful banking information, such as maximum payouts, payout options, processing time, and similar. So, if you've been thinking about starting to play online, stay tuned and keep on reading our banking guide on the Slots of Vegas deposit, withdrawal and maximum payout options.
Slots of Vegas Deposit & Withdrawal Methods
Slots of Vegas offers various withdrawal and deposit banking options. It is fundamental for a casino to offer multiple banking and payment options, in order to make it more convenient for players to deposit and cash-out. There are various ways you can deposit or withdraw at Slots of Vegas, and in the following part of our article, we'll have a look at each of them separately.
Credit Cards
One of the fastest banking options at this casino is through credit cards. Players can make a deposit or a withdrawal by using their credit cards. Visa or Master, credit or debit cards are accepted as well. We should also mention that new players must fill out a Credit Card Agreement Form. After the Banking Department approves this form, you'll be able to request a withdrawal at Slots of Vegas Casino by using your credit or debit card. The maximum payout limit for this kind of banking method is $2,000 per week.
E-Wallets and Crypto Currency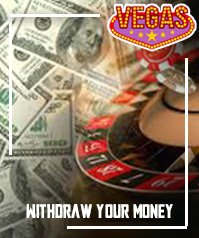 Another popular banking method for depositing and withdrawal at Slots of Vegas is e-wallets and Bitcoins. Neteller is a quick and easy e-banking method. However, we should mention that this kind of banking option is not available for residents of Canada, USA, Spain, France, Germany, and Singapore. According to most players, it takes about 7-10 days for a withdrawal of this type to be processed. We should also point out that the maximum payout is also $2,000 per week.
Slots of Vegas also offers another modern banking option, in the form of cryptocurrency. Bitcoins, to be more precise. You can request a withdrawal or make a deposit using Bitcoins. All you have to do is make sure that you've filled in the required information and request a withdrawal. These kinds of withdrawals have a maximum payout of $2,000 weekly.
Banking Transfer
If you prefer a more traditional banking method, relax, Slots of Vegas Casino offers that too. You can choose between a Banking Wire transfer or Banking Checks. The minimum amount you can withdraw via Banking Wire transfer is $200, while the maximum payout remains the same at $2,000 per week. On the other hand, if you should decide to request a withdrawal through Banking Checks, you should know that the minimum amount you can withdraw is $300. This is due to the fact that transfer through Banking Checks involves overnight fees and processing expenses.
Usually, the processing time of Banking Checks transfer is 3-8 business days after withdrawals have been payed. The checks will be sent to the address that is filed on your account, and fee for this kind of service will be deducted from your withdrawal winnings. Note that the maximum payout for this type of transaction is also $2,000 per week.
How to Request a Withdrawal at Slots of Vegas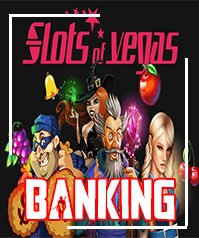 Requesting a Withdrawal at SlotsOfVegas Casino can be done by following a few simple steps. After you've won, you will need to exit the game you were playing and head back to the casino lobby. There you have to click the Cashier, where you can request a withdrawal. Typically, your deposit banking method determines your withdrawal banking method. Or in other words, the casino will pay you, the same way you payed the casino. The only exception is credit cards, in which case you'll have a chance to choose your preferred withdrawal banking method. The casino will also look to make things more convenient for you and let you choose your preferred withdrawal banking method, whenever possible. As you've probably noticed by now, the maximum payout for most banking methods is $2,000 weekly. Unless you're a VIP, in which case the maximum payout limits are higher.
Disclaimer
Banking errors may occur from time to time, and luckily SlotsOfVegas Casino is very understanding of this. They are always ready to hear out your side of the story and thoroughly examine it, in case of being charged twice, or maybe even by mistake. If the case is valid, you'll be refunded. If further complications arise, or you wish to delete a transaction, you can do so by sending them an email. Sometimes, multiple transactions may be displayed as a single one. Don't worry, chances are that they all occurred, but have been grouped as a single transaction.
Withdrawal Process Time and Maximum Payout
Withdrawal process times may vary depending on the banking method you choose. The average process time of any banking method at Slots of Vegas is between 10-15 days. According to most users, the fastest banking withdrawal method at Slots of Vegas is through e-wallets. This type of banking withdrawal method takes between 7-10 days. Next on the list are Banking Wire Transfers. These types of withdrawals usually take between 10-15 days to process. Banking Checks on the other hand take a little longer. The main reason behind this is, the fact that Banking Checks are delivered to your home address. With that in mind, you can expect this type of banking request to be processed between 21-28 days.
When it comes to maximum payout limits, they don't differ that much, from one payment method to the other. As you may have already noticed in this article, the maximum payout limit is set at a weekly $2,000. There is a way to increase the maximum payout limit, and in order to do so, you'll need to be a VIP. VIP players enjoy various types of benefits, and an increased maximum payout is one of them. We suggest that you visit the SlotsOfVegas Casino website and click on the VIP Program button, to learn more about getting an increased maximum payout, as well as other benefits. While the maximum payout is pretty standard and remains the same, the minimum withdrawal can be different in certain cases. For instance, a bank wire transfer has a withdrawal of $200 minimum, while the bank checks have a $300 minimum withdrawal.
How to choose the best Withdrawal Method at Slots of Vegas
Since Slots of Vegas provides various withdrawal methods, it might seem confusing for our readers to put their finger on the best possible option. Fact is, there isn't a single best withdrawal method. It all comes down to what you, as a player, feel most comfortable using. As you've probably noticed by now, the main difference in the withdrawal methods at Slots of Vegas is the processing time. Since the maximum payout is the same for all withdrawal methods, we should take the processing time as a rating criterion. If that is the case, then e-wallets represent the fastest way you can have your funds available to you. The same applies to Bitcoin withdrawals. This is followed by Bank Wire Transfer and Bank Checks.
Summary
For our final words, we'd like to summarize what was already stated in this article. After careful analysis we can conclude that Slots of Vegas Casino offers a decent amount of deposit and withdrawal methods. However, their withdrawal limits are exactly that, limiting. We're talking about the maximum withdrawals allowed, which should be higher. On the other hand, if their idea was to provide players with multiple with deposit and withdrawal options, then Bingo! It was a success. In addition to that, their processing time for each payment and withdrawal method seems fair. We should also praise the fact that they accept Bitcoin as payment, which shows that we have a progressive thinking casino on our hands.
Main Menu